Name boxer: Liam Forrest
Nick name: Beast
Club: Moulescoombe ABC
Coaches: Nick and Matt Bell
Weight: Middleweight – 75kg
Record: 17 fights 13 wins 4 losses
When and why did you start boxing? In 2010 when I was 12 years of age I started because it was the only sport that stood out and caught my eye. I tried most sports but non of them got my interest. I like to keep my body in top shape and keep my mind focused on something positive.
What are your boxing goals? My ultimate goal is to box at the highest level possible which is to be on the Olympic podium squad on GB, and then eventually turn over to professional.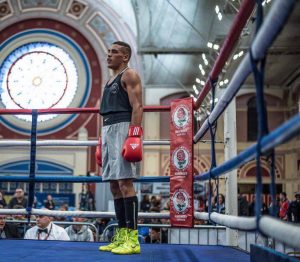 Who is your boxing idol and why? I have many idols in boxing because everyone has there own style but the one who catches my eye the most is Vasyl Lomachenko. He has unbelievable movement and footwork.
What advice would you give to any youngster looking to start boxing? Advice that I would give to any youngster starting boxing would be that it is a great thing to get involved in. It is a great tool to keep you fit, focused and disciplined. If you have any hidden anger the gym is the best place to go to instead of making mistakes but the most important advice I would have to give is KEEP YOUR HANDS UP!