CHARLEY MASON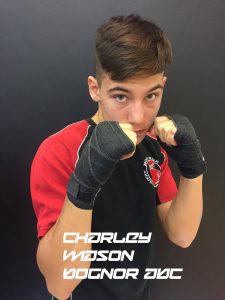 16
BOGNOR AMATEUR BOXING CLUB
64KG
29 FIGHTS 11 LOSSES 18 WINS
I STARTED BOXING AT 10 (FIRST FIGHT AT 12).
WHY BOXING? I STARTED BECAUSE DAD DID IT AND WAS ALWAYS INTERESTED IN IT
MY GOALS? I'D LOVE TO BOX FOR GB ONE DAY AND BECOME A PRO WORLD CHAMPION
FAVOURITE BOXER – VASYL LOMACHENKO – HIS MOVEMENT IS AMAZING.
WHAT ADVICE WOULD YOU GIVE TO YOUNG PEOPLE LOOKING TO START OUR IN BOXING?
DEFINITELY TRY IT OUT IT GIVES YOUNG PEOPLE RESPECT AND HELPS THEM TO UNDERSTAND IT, IT ALSO HELPS BRING OUT CONFIDENCE AND HELPS ANXIETY. FINALLY IT GIVES YOUNG PEOPLE THE CHANCE TO MAKE LIFELONG FRIENDS AND MAKE SOMETHING OUT OF THEMSELVES.