Name: Jamie Brown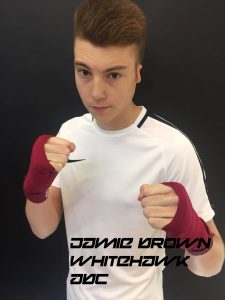 Age: 16
Club: Whitehawk boxing club
Weight: 70kg
Record: 0-0 I have had 10 kickboxing bouts but making the transition now to boxing.
Why boxing?!? I started boxing about six months ago because I have always loved watching combat sports and I want to become a top level boxer.
What are your aspirations? My goal is to fight at the top level e.g for GB or as a pro boxer.
Who is your idol? My boxing idol is Floyd Mayweather as he is defensively brilliant.
What advice would you give to young people getting in to the sport? My advice for any young boxer is to always put 100% effort into training and not to be afraid of trying new things in sparring.