Bexhill Boxing Club held a gym show / interclub sparring at their gym this past Sunday with what turned out to be a bumper attendance.
Clubs including Ashford, Bognor, Brighton & Hove, Crawley, Fishersgate, Phoenix, St Mary's, Tenterden, and Tunbridge Wells & Rusthall brought any army of boxers with them eager to gain further experience.
Nearly 90 boxers were weighed in, and swiftly organised into approx. 40 bouts which only left an unfortunate few without a sparring partner. Bexhill made use of its 'old squash club' premises by having a ring in each squash court enabling spectators to either grab a seat ringside, or spectate from the viewing area overlooking the courts.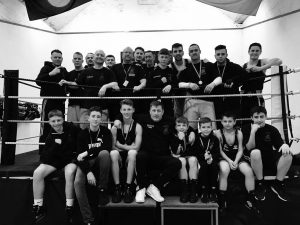 Although the volume of boxers and spectators made the day a challenge, the club received some excellent feedback from fellow coaches / clubs on the success of the day, and the bouts that took place. It looks as though there is some great talent emerging from the clubs across the region, which is excellent for the sport and any future events planned.
Bexhill would like to thank all the coaches, clubs, boxers, and spectators that attended the event and helped to make it the success that it was. They were blessed with great weather which probably saved the day as it allowed people to venture out into the sunshine away from the very cosy atmosphere inside the gym!
Bexhill's next event is their home show that takes place on the 20th May 2017, from its usual location at Pebsham Community Centre, 70 Seabourne, Bexhill, East Sussex.   See you there!