Boxer Name – Lukas Andriunavicius
Club – Bognor (Started at Littlehampton)
Nickname – I don't have one (nothing rhymes with my surname)
Weight – 72kg
Record – My current record is 11 bouts 8 wins (as of 25/01/17)
When and why did you start boxing?  I started boxing in 2015, firstly I love the sport, secondly when I was younger, I had great physical abilities but was too shy to use them in for sport, that was until I found boxing, I gained more confidence, self belief and achievements which makes me happy when I look back on them.
What are your boxing goals? My boxing goal is to become a professional when I have enough experience in the amateurs.
Who is your boxing idol? Gennady Golovkin and Manny Pacquiao
What advice would you give any youngster looking to start boxing? My advice for youngsters taking up boxing is for them to understand that what you put in the gym with a strong mentality is what you will get out when your in the ring.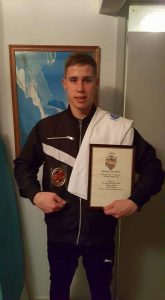 Good luck to Lukas!